What Is Email Drip Campaign Software?
Automated marketing technique designed to send a series of emails to your mailing list over a certain period.
Before revealing to you why you should be using MailSend for your email drip campaigns, let's define what a drip campaign means and why it's essential for your business needs.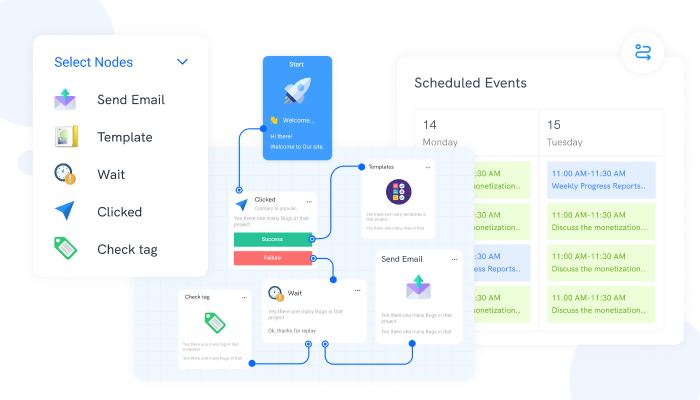 A drip campaign is also known as a drip sequence. It's an automated marketing technique designed to send a series of emails to your mailing list over a certain period. The emails are sent to your users based on their actions, and they are expressly set to be delivered at predetermined intervals.
Our Guide To Email Drip Campaign Software
Let's look at a common everyday example of how an email drip campaign works to understand this further. When visitors subscribe to your newsletter, your drip campaign will follow up by delivering them a welcome email right away. Later, the subscriber will be notified about interesting topics that your newsletter offers. After that, the subscriber can be sent some free newsletters that could interest them.
The best thing about an email drip campaign is that it engages your audience with what they need. It doesn't matter when your users join your mailing list; they have to go through the same sequence.
So, why bother using email drip campaigns?
Well, if you really want to enhance your marketing experience and achieve your goals, then finding the right email drip campaign software is imperative. Other benefits of drip campaigns include:
Boost engagement

The best way to keep tabs with your subscribers right from the time they show interest in your brand is by using drip campaigns. In fact, you should rely on email drip campaign software that does the job. For instance, if a subscriber just joined your mailing list, you want to keep them updated about what's going on. A drip campaign software will do the task for you. It will help you understand more about what your prospects want. Therefore, this makes it easy for you to convert them into new customers and later into loyal clients.

Lead nurturing

Drip campaigns are also ideal for nurturing leads. Any successful business understands the importance of managing customer relationships. This is the same thing you should be doing to succeed in the industry. But the reality is that you can't handle all the customers in your sales funnel manually. This makes it important to use the email drip campaign tool. The best tool allows you to personalize how you communicate with your individual customers. Consequently, the good impression you create will go a long way in assuring your prospects that they can trust your brand and what you offer.

Drive revenue

Of course, you don't want to run a business that makes losses. Email drip campaign tools can help you increase your revenues. These tools are automated, which means you can also automate your email marketing campaigns. Besides, you can curate your email content to make sure that they provide answers to what your clients want. This means that your campaign will be more effective and, as a result, get you more people signing up for your services.

Stronger customer relationships

Getting new customers is never easy. If you've been in business for some time, you will attest that retaining clients is easier. Therefore, building strong ties with your customers is very important because you don't want to lose them. The best way to increase your retention rates is by building meaningful relationships with people who trust your business. Email drip campaign software can help you do this because you only need to know what your customers want and how best to deliver.
Engage More Audience by Automating your Email Marketing Campaigns with MailSend Sign Up 14 Day Trial
Considering the benefits that email drip campaign software offers, investing in the right software guarantees you maximize the perks of a good tool. The best tool we currently recommend is MailSend.com. This is a powerful drip campaign tool that is simple to use. MailSend is loaded with exciting features that will ensure you increase user engagement, product adoption, and customer retention capacity.
In terms of user engagement, there is no better way to take advantage of the pre-built email templates that will trigger your prospects and customers to take action and buy from you. MailSend software is designed to make sure that you increase your conversion rate both in the short and in the long run. It has over 30,000 users already benefiting from the software. Sign up for their services and become one of the businesses that leverage the perks of this great software.