What is Email Automation?
Understanding the meaning and functioning of email automation makes one good at engaging customers.
Automation is unfolding everywhere – be it the digital platform or offline scenarios. And, businesses are investing their assets into various types of automation. In support of these businesses, the inner technological environments are also turning favorable towards automation as this can accelerate most businesses. However, the business solutions are coming up with great automation features to see internal processes grow faster. As the need for automation is on a rise, there came a rise in email automation. Email automation is where you can trigger the actions of the users through an email whenever they visit your website. Email automation is performed so well for a sophisticated marketing approach. As your target audience visits your website or performs any action through CTAs, a welcome email hits their inbox and this is an example of email automation. The market is fully equipped with a lot of email marketing tools but, what's the right tool that can accelerate the planned email-campaigns? That's what we want to describe how Mailsend email marketing tools can help in email automation. Automating the emails with the relevant subject lines that help in boosting business is a proven method or a triggered workflow to target the desired and potential audience. Welcoming emails, monthly newsletters to your subscribers, email-campaigns, and updates about your business are all part of email automation. What helps you to achieve this? An email marketing tool, Mailsend by 500apps is here to simplify the job of email marketing.
But before understanding the features of the product, here are the four main strategies to implement for a successful email-campaign: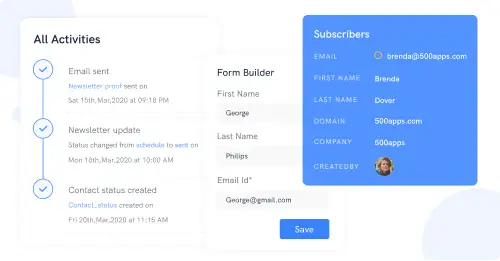 1. Use Snippets to Track
Snippets allow you to track the visitor's action from email to the website. Track how your email targeted audience is navigating to the website from emails that you have triggered.
2. Implement Segment Builders
Segment the audience based on their previous purchase history on your website or previous actions they have made on your page. The segmentation is done based on demographic data such as age, location, etc.
3. Send Action-Triggered Mails
Send the emails automatically to your subscribers based on their actions. Mailsend offers hyper-personalization to attract your subscribers slide through your website and convert them into potential leads.
4. Plan for Dynamic Content
Rely on dynamic content if you want to deliver an email when you're in a hurry. However, you have the customization feasibility at a few places and let the subscriber receive it thus meeting the marketing targets.
Grow your Business with Email Automation Software
Mailsend is a bluecoat to automate your emails. The software helps businesses to grow by automating most of their marketing efforts. And, here is how it serves as an asset for organizations: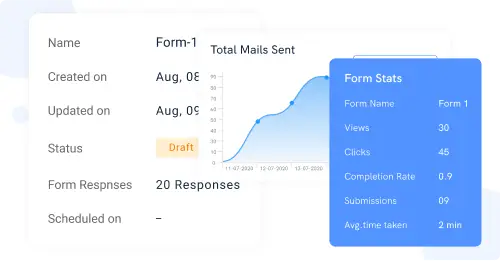 1. Invite & Welcome the New!
96% of the visitors never show their readiness to buy your business solution and there might be an interesting spark in them to choose your service later. In this case, the great way to engage and convert them in an instant is to start sending welcoming emails. Generate and send an automated email once they subscribe. Create visually appealing emails using Mailsend software with offers and excitements in just a few minutes! Add the list of subscription boxes to your website and after receiving the list of emails, set up an automated email whenever the audience hits the button. Thus, the impact on sales would be massive helping the businesses to grow.
2. Boost Product Usage
Most organizations enable a free trial period to receive potential customers and convert them into life-long leads by showcasing the effectiveness of the product. This happens when they realize the value of the product. How do you do that? At Mailsend, we offer the customers to create a campaign, add subscribers to the list, and send them. So, to give an exciting push to your customers, you need to take the help of email automation software.
Engage More Audience by Automating your Email Marketing Campaigns with MailSend Sign Up 14 Day Trial
3. Send Infinite Newsletters
Using Mailsend, you can shoot infinite newsletters if your server supports the target audience. As per the subscribers' list, send newsletters by enabling the double opt-in option that this software has where its software becomes GDPR compliant. Send monthly newsletters to a particular set of the target audience by segmenting them in just a few clicks.
4. Get Product Feedback
Matching the expectations of your customers is a challenging task if you have no idea of what your customers are expecting. The best and proven methodology to approach and capture the requirements of the customers is by asking them directly via emails. Mailsend has an option where once the free trial ends, the customers will receive an email asking for feedback or their requirements. And, as they fill it up or give their valuable feedback, you have a place for improvements. Such emails will have almost 50% of responsiveness and you can analyze how customers are benefitting from your product. The aspects such as disliking factors, not-so-performing points, and the key considerations can be known. And, this becomes a space for you to understand customers better and leverage your product's features according to their needs and expectations. By performing all these, you explore the chances to grow and opportunities to work on further advancements.
Moreover, you can email them by wishing on national occasions or their birthdays. This makes them feel much more connected. Make a personal touch by automating such emails. Send personalized emails that focus on recent improvements, announcements, or new changes that happened recently published blog posts, and much more using Mailsend, an email-campaign automating tool. The email automation software is used by businesses today to quicken their market efforts thus hitting the right audience at the right time with informative and perfect emails. The software by 500apps offers eye-widening functionalities as it has drag-and-drop features to create newsletters. Begin your journey into automation and explore the ocean of 500apps that never makes your business fade away!