Top Email Marketing Tips Everyone Should Know
Businesses can update their contact list of clients about new products, sales, and other information by using email marketing, a direct marketing method. The majority of organizations' total inbound strategy depends on it because of its strong ROI.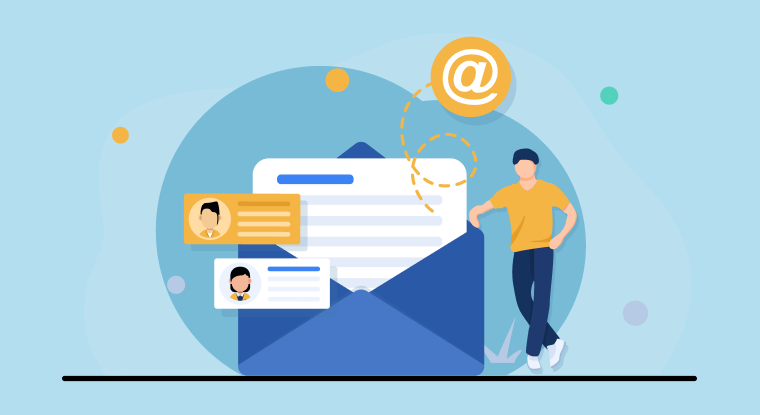 Introduction to Email Marketing
The use of email in marketing campaigns is to advertise a company's goods and services and to reward repeat business from clients. Customers on your email list can be informed about new products, deals, and other services through email marketing. Educating your audience about the benefits of your brand or maintaining their interest in between transactions can also be a more subtle way to market. It might potentially fall somewhere in the middle. To obtain the most return on investment from your marketing programme, MailSend can help you design, develop, and optimize your email marketing.
Purpose of Email Marketing
The most crucial question, "What is email marketing?" has been answered, but we haven't yet discussed "Why is email marketing so vital for your business?" Now let's discuss that. Email continues to be the most efficient method for nurturing leads and increasing client loyalty, despite the rise of social media and unsolicited spam email.
Why Email Marketing Should Be a Priority?
The most popular form of communication is email. Did you realize that 99% of consumers at the very least check their email daily? No other form of communication can make that claim.
Your list is yours. Your account may be suspended or canceled on any social media network at any moment, for any reason, and without warning. Your email list is your own, though. Nobody can take away from you those leads.
Simply put, email converts better. Spending on products purchased by email subscribers is 138% more than that of non-subscribers. Email marketing actually has a ROI of 440%. That's a lot! Additionally, the average order value of an email is at least three times larger than that of social media, so stop thinking that social media converts even better.
The best method for generating internet sales is simply email. Now that you are aware of the significance of email marketing, let's get to know some benefits.
Benefits of Email Marketing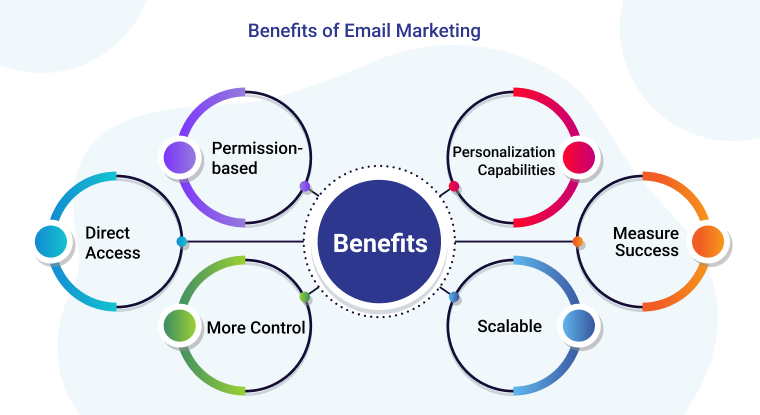 Email marketing has many advantages. These are just a handful of the most important advantages.
Provides Permission-Based Experience
When a customer provides you their email address, it's like receiving the keys to their house. Asking permission before entering rather than just showing up on your own enhances the chance of engagement and conversion.
Provides Direct Access to Your Audience
Subscribers are available for direct communication on their terms. Furthermore, your message is more likely to be viewed because the majority of individuals check their email several times every day.
Provides More Control
Unlike most other marketing platforms, you don't control the platform. If the platform disappears, all of your work will be wasted. If Google or Facebook implement algorithm changes, your reach may be drastically reduced.
The ties you forge with your readers through email, however, are yours to keep.
Gives Personalization Capabilities
To generate customized and hyper-targeted advertising, you can employ demographic or psychographic data.
Allows Easy to Measure Success
A marketing campaign's efficacy must be measured, and automated, email programs make this process simple.
Ensures Scalability
As your audience expands, email marketing campaigns may simply scale without taxing your resources or sacrificing quality.
Check Out These Email Marketing Tips
Read in and out the following email marketing tips to ace the marketing for any business:
Test Every Subject Line
Wouldn't it be fantastic if you could preview each subject line before sending? There is with the Email Subject Line Tester. Utilizing tools makes it simple to improve subject lines and see how they will appear in recipients' inboxes.
Use a Real Name
You feel friendlier when you get an email from a genuine person as opposed to a business. Therefore, use the name of an employee as the sender instead of your firm name. If you're a blogger or independent consultant, your name could also be your brand. However, larger retail and B2B businesses can also benefit from this strategy.
Practise Personalization
People want an identity that goes beyond their position as a number. To further personalize your emails, include the recipient's name in them.
Use Power Words
Subject lines ought to motivate readers to act. Therefore, use strong terms that encourage readers to open and click.
Include A/B Testing
No study or outside source of data will ever have findings as significant as your own. A/B testing as much as you can is one of the finest strategies to learn just what works for your audience. One piece of an email that is clear to split-test is the subject line, and most email service providers make this simple.
Make Use of Preview Text
In certain email applications, the preview text shows after the subject line. In the event that no preview text is given, this area will often be filled with text from the email itself. Though it presents a chance to provide your subject line with more context, leaving it blank is a missed opportunity.
Experiment With Emojis
There is more to emojis than just cute pictures. They can actually increase email openings. Emoji-using brands have really witnessed a 56% rise in their unique open rates, according to Kim Courvoisier.
Impressive. Will you get the same outcomes? Experimentation is the only way to learn for sure.
Sell Benefits, Not Features
This is yet another timeless email marketing tip that closely relates to the preceding item. Customers are typically more interested in advantages than features. A sharper mower blade is beneficial because the consumer will need to spend less time mowing their lawn, not because it is significant because it is sharper.
Avoid Generic Templates
Utilizing a template as a starting point is acceptable. However, the same plain text email templates have been used time and time again. Therefore, if you've received a message like this previously, it's time to start over and come up with something new.
Link to Your Social Media Profiles
One of the primary components of your email marketing tips should be to invite readers to interact with your company on social media. In order to encourage recipients to share your promotional offer with their friends and followers on social media, it is excellent email marketing tips to include links to your social media accounts.
Engage More Audience by Automating your Email Marketing Campaigns with MailSend Sign Up 14 Day Trial
Send Test Emails
One of the best email marketing tips to practice is to make sure each email is functioning properly if you want to see your subscribers open and click on links on a consistent basis. Sending each of your messages to employee accounts first allows you to confirm that they all appear how you desire. You should ideally be able to read them on various mobile devices, as well as in a range of email clients and service providers.
Keep Track of Your Data
Keep a close check on your data, such as the number of email addresses that could not be delivered, the number that were never opened, and the time of day that recipients did receive your message. Your data's minute details include a wealth of information regarding the effectiveness of your campaign.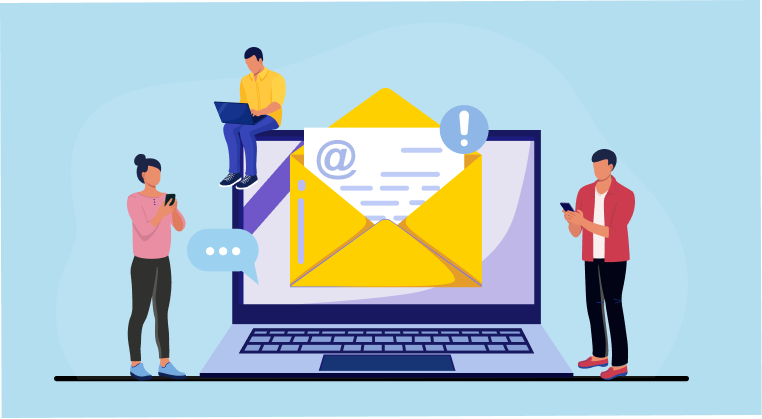 Conclusion
You now hopefully have a better understanding of the world of email marketing programs. We are aware that there is a tonne of information present. But anyone can utilize email marketing tips to expand their business by taking things slowly at first.
Start using MailSend's Plan right away to determine what features and capabilities your company requires!
What Makes the Best Email Marketing Software?
#1
Send unlimited newsletters and promotional emails to your contacts
#2
Create multi-step email sequences using visual flow designer
#3
Choose your own email gateway provider or get 5000 user emails every month for FREE
#4
Personalize your email using merge functions and dynamic images
#5
Trigger marketing automation rules based on email opens or clicks
#6
Assure GDPR compliance and double opt-in consent
#7
Send bulk emails to unlimited subscriber lists in different projects
#8
Generate and analyze the detailed reports on email campaigns
#9
Unbelievable pricing - the lowest you will ever find
#10
Everything your business needs - 50 apps, 24/5 support and 99.95% uptime
Join the SaaS Revolution
All-in-One Suite of 50 apps

Unbelievable pricing - ₹999/user

24/5 Chat, Phone and Email Support