7 Best Email Marketing Programs For Small Businesses
Email marketing programs help businesses increase their revenue and improve customer engagement. They also help with sophisticated data segmentation and design better and cost-effective marketing strategies for an advantageous competitive edge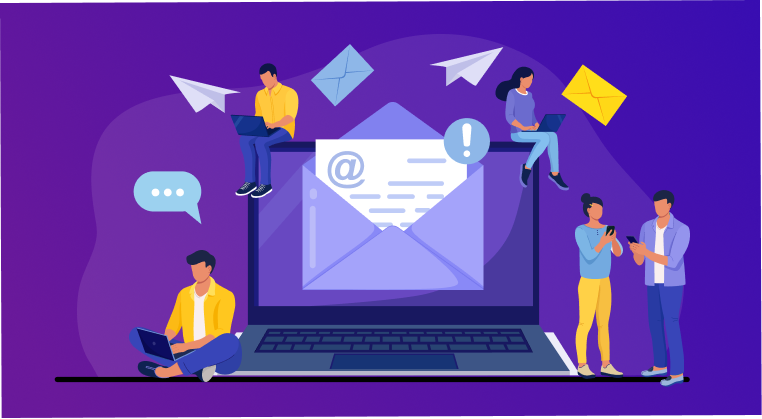 Email marketing is one of the most economical marketing strategies for small businesses. It's crucial to realize that your email marketing success will depend heavily on the email marketing programs you use because they are in charge of ensuring that your emails are actually sent.
If you don't take care, you'll end up spending more for fewer marketing options and poor email deliverability rates (which causes you to lose even more money). Solid email marketing programs make it easy for you to create engaging newsletters with their simple user interface (ideally drag-and-drop editor). Sending mass emails that are genuinely tailored and targeted shouldn't take much effort. Marketing automation is another name for this.
In addition, the email marketing software for small business you consider must make it simple to classify consumers into groups, manage your contact list, and track the effectiveness of your email marketing campaigns. Reputable email marketing programs will, above all else, make sure that your email campaigns do not land in the spam folder.
Let's see some of the benefits of using email marketing programs.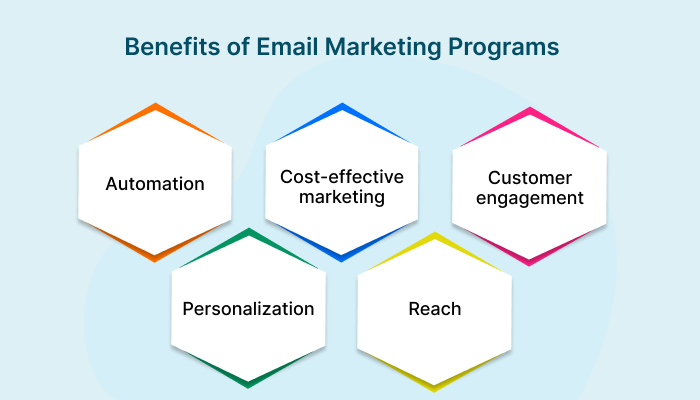 Benefits of Email Marketing Programs
Read on to know more the benefits about email marketing programs.
Automation
Email marketing programs simplify the procedure, which is otherwise manual and labor-intensive in other businesses. All you have to do to encourage consumer loyalty is compose the message and let email marketing programs automate the sending.
Cost-effective marketing
The majority of businesses seek out expensive marketing strategies and pay the price. Email marketing programs are beneficial for both small and large enterprises, though. It can reach more individuals and typically costs less than other types of web marketing. This sort of software can swiftly and effectively send messages to multiple people at once or focus on a single contact list.
Customer engagement
There are numerous instances of email marketing programs assisting you in engaging with your audience, much like social media marketing. Customers can email you in response, and you can react back in kind. It can reach international users at a low cost and is quicker than other media. Additionally, compared to other forms of marketing, the information you offer to clients makes them feel more personally involved. The autoresponders can also be used to take action in response to keyword triggers.
Personalization
Emails can be created using different templates and sent simultaneously to numerous users. Email marketing programs are made even more unique by the ability to customize each one using the visual editor. This implies that you can configure the emails to send customized birthday wishes or customized updates. By including swappable data in the email, such as usernames, this is accomplished easily.
Reach
Modern technologies have expanded alongside the development of email marketing programs. Mobile-friendly emails were created for this reason. This enables you to communicate with your audience even while they are mobile and away from their computers.
After that, let's examine some of the most well-known email marketing programs and see how they compare to one another.
Top 7 Email Marketing Programs
Following are the top 7 email marketing programs in the market with respect to our research:
MailSend
MailSend is one of the powerful email marketing programs that offer a wide range of features to help you create effective email newsletters, email templates, drip campaigns, mailing lists, and email analytics.
The drag-and-drop designer makes it easy to create beautiful email newsletters and drip campaigns without any coding knowledge. You can also use existing ones or create your own custom email templates.
The drip campaigns feature allows you to drive automated email marketing to your subscribers based on their actions. For example, you can send a welcome email to new subscribers, or a special offer email to subscribers who haven't purchased anything from you in a while.
The mailing lists feature allows you to segment your subscribers into different lists so you can send them targeted emails. For example, you can create a list for subscribers who live in a certain country, or a list for subscribers who have purchased a certain product from you.
The email analytics feature allows you to track the performance of your emails. You can see how many people opened your email, how many people clicked on the links in your email, and how many people unsubscribed from your list.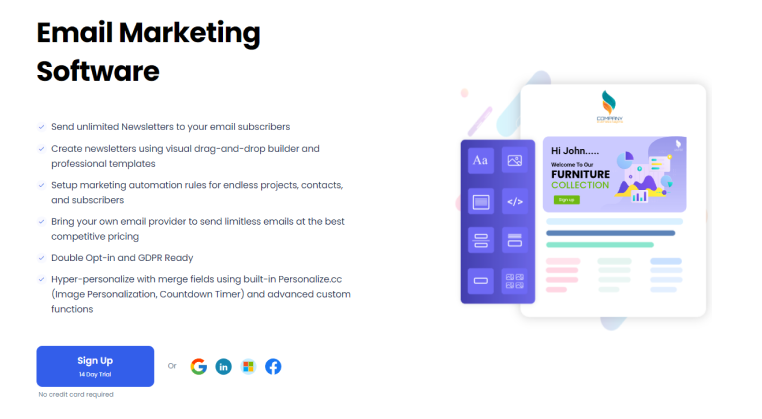 Campaigner
If you want to boost sales and revenue, affect your audience's customer journeys, and grow your marketing channels all while maintaining the good name of your company, you should definitely give Campaigner a try.
Using fully configurable templates, Campaigner makes it simpler for you to generate eye-catching emails. This good pick of email marketing programs also enables you to develop personalized messages that provide genuine value to your clients. Additionally, this one of the robust email marketing programs enables you to design customized client journeys that increase conversions.
Its Reputation Defender feature helps you spot dangerous contacts that could endanger your reputation as a reliable email sender, checks the health of your list, and identifies errors before you send an email. Additionally, Campaigner provides a solution for those considering using other marketing programs with Campaigner SMS, a marketing automation tool that enables the creation of workflows.
Sendinblue
Sendinblue provides a good trade-off between the price it charges and the service's ease of use and functional features.
The major competitive edge that Sendinblue has over other systems is its superb automation, integration, and segmentation capabilities in its well-developed CRM department. However, the user interface may be trickier than with other email marketing programs like MailSend. Additionally, they make great SMS email marketing programs. You can create your emails using a variety of templates.
You can design unique workflows with SendinBlue that send emails automatically. Even your website visitors' actions can be used to send emails. For instance, if a consumer adds an item to their cart but doesn't check it, you may send them an automated email with an automated email system.
Omnisend
Check out Omnisend if you run a small business in the eCommerce sector and looking out for the best email marketing programs. It offers a variety of user-friendly eCommerce marketing solutions, including powerful email marketing features, and is trusted and adored by over 70,000 eCommerce merchants. Overall, they have a tremendous template selection and work well for email campaigns with lots of visual content. Their user-friendly drag-and-drop content editor allows for quick customization of each template, proving it to be truly one of the finest email marketing programs.
Utilize segmentation and optimization tools like A/B testing to ensure that your expertly designed email receives the open rate it merits. You can construct audience segments that can boost your conversion rates by as much as 60% by using the profile information about your consumers and their purchasing behavior.
Then, it provides precise sales tracking and attribution so you can evaluate the effectiveness of your email marketing. With the aid of their sophisticated reporting, you can establish best practices for upcoming campaigns and gain a lot greater understanding of just how subscribers are interacting with your emails.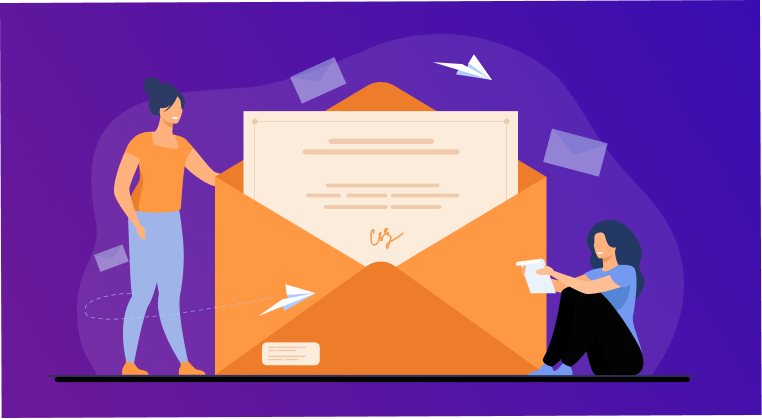 GetResponse
Small and medium-sized enterprises and, more generally, individuals who have just launched a new firm can use one of the advanced email marketing programs, GetResponse. However, even large organizations like Ikea and Unicef utilize GetResponse to produce effective, streamlined emails in a single, user-friendly interface.
It is an especially affordable and simple service. The service provides a number of integrations and capabilities in addition to thorough statistics. The automation procedures, which were not primarily developed, are the weak point, making it fall behind other email marketing programs.
The added possibility to use the service for other marketing requirements you may wish to satisfy makes GetResponse one of the best email marketing tools to invest in. This involves marketing automation, design and optimization of landing pages, and conversion funnels.
ActiveCampaign
ActiveCampaign is one of the cheap, simple-to-use email marketing programs that is ideal for SMEs. It is a good option for small enterprises and startups.
Engage More Audience by Automating your Email Marketing Campaigns with MailSend Sign Up 14 Day Trial
To monitor leads and subsequently automatically coordinate sales and marketing, this platform incorporates a CRM system. Process automation is a plus for Active Campaign, which offers innovative, educational reports that inform users of what is and isn't working in their email marketing campaigns.
The way that ActiveCampaign filters the customer experience acquisition process makes it a fantastic email marketing platform to check into. The platform's main website categorizes prospective users by sector, item, and function. Because of this, the platform can entirely tailor your needs for email marketing services to match your requirements and preferences.
AWeber
AWeber is appropriate for people with firms focused on the web marketing sector who look for dependable email marketing programs yet have a tight budget.
The comprehensive and simple reports offered by AWeber are helpful for beginners. Split tests can be used by power users with more experience.
AWeber has a variety of special features like a campaign marketplace, an AI-powered design assistant, a drag-and-drop email and landing page designer, and automatic campaign features.
Conclusion
Reading emails on the go has become more and more common. That's one of the main reasons companies need to spend money on email marketing programs that do the work. Examine the costs and services offered by email marketing programs. Choose the most practical option without compromising on dependability, security, or single-use.
MailSend by 500apps is one of the best email marketing software that has the potential to meet all your email marketing requirements.
What Makes the Best Email Marketing Software?
#1
Send unlimited newsletters and promotional emails to your contacts
#2
Create multi-step email sequences using visual flow designer
#3
Choose your own email gateway provider or get 5000 user emails every month for FREE
#4
Personalize your email using merge functions and dynamic images
#5
Trigger marketing automation rules based on email opens or clicks
#6
Assure GDPR compliance and double opt-in consent
#7
Send bulk emails to unlimited subscriber lists in different projects
#8
Generate and analyze the detailed reports on email campaigns
#9
Unbelievable pricing - the lowest you will ever find
#10
Everything your business needs - 50 apps, 24/5 support and 99.95% uptime
Join the SaaS Revolution
All-in-One Suite of 50 apps

Unbelievable pricing - ₹999/user

24/5 Chat, Phone and Email Support