10 Best Tips to Scale B2B Email Marketing
B2B email marketing helps you upscale performance and enhance marketing efforts. Here are the 10 amazing tips to master email marketing.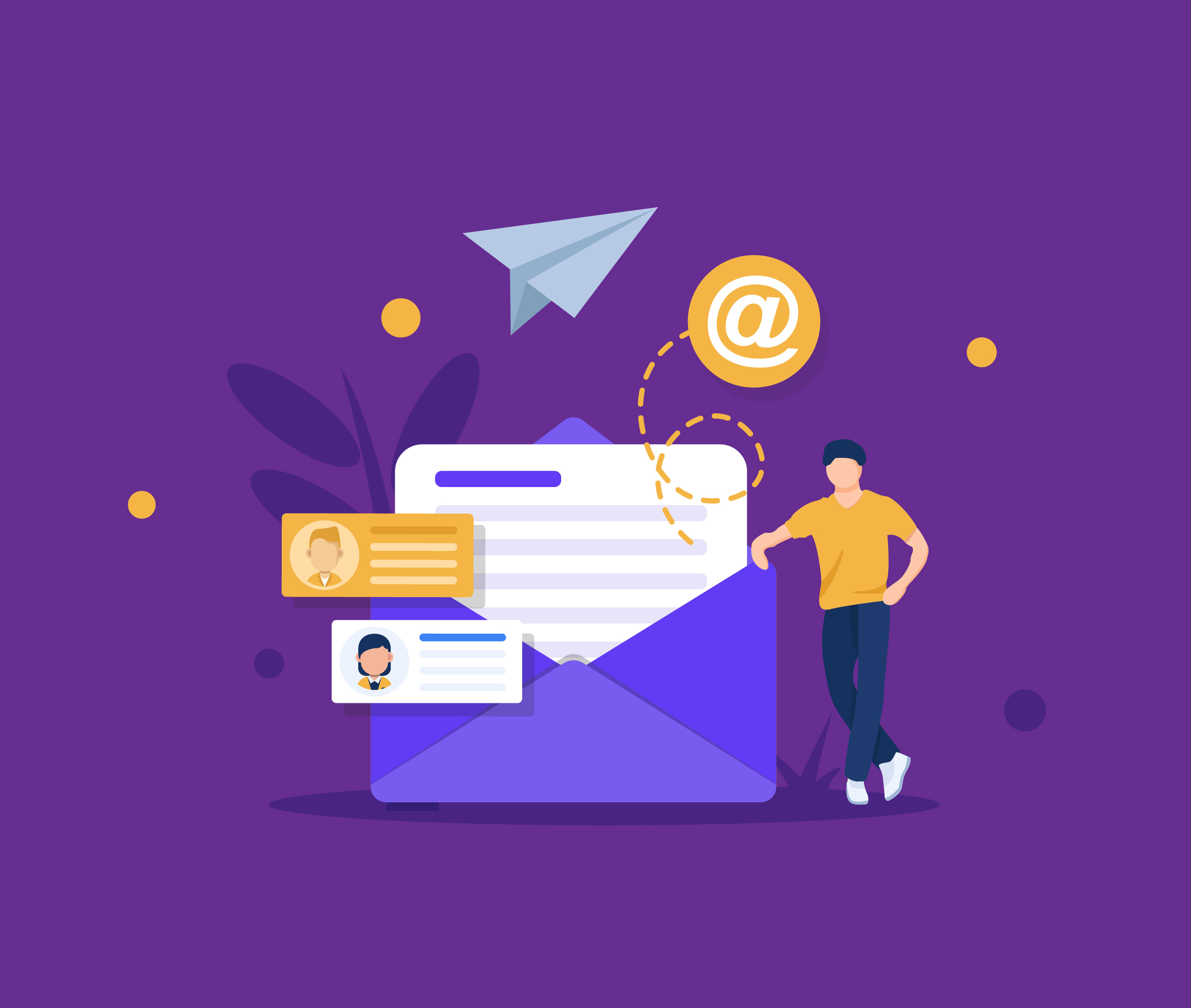 Did you know that email is The biggest channel for revenue generation for 59% of companies in the B2B industry? That's not all. 40% of them feel email marketing is actually critical to their success. And 54% of influencers in email marketing feel increasing engagement is the key to growth and is hence their top priority.
Speaking of increased engagement, research has found that trigger-based emails perform better than nurture emails or broadcast emails in terms of connecting with customers. At the same time personalization has been found to produce 6 times more revenue and transactions. These numbers not only indicate how critical email marketing is in the B2B industry but also how companies have realized that adopting new techniques is important and inevitable for growth. As generations change, and as consumer behavior with respect to technology evolves, it is important for companies to change their marketing strategies as well. This is why companies need to adopt current best practices in email marketing at all times in order to maximize effectiveness.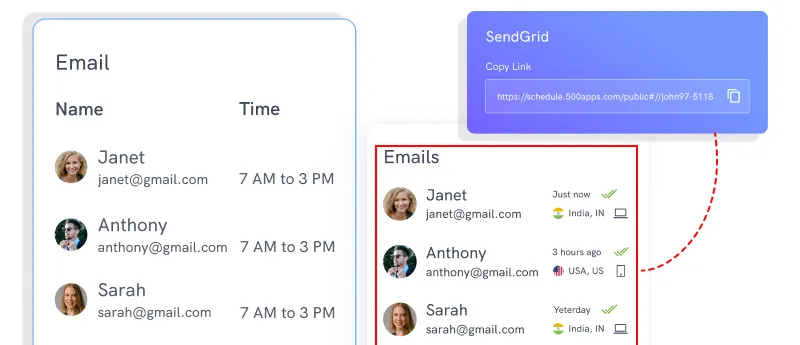 These best practices are developed over time after studying customer behavior and technology preferences and are hence psychologically bound to work. For example, it is a known fact that personalized emails reach out better to customers. Hence companies go the extra mile to gather personal information and craft suitable emails for each of their prospects.
Automation can do wonders with these aspects in B2B email marketing. From creating automated drip campaigns with personalized messages to segmenting prospects based on different demographics, automation can help you in many ways.
10 Best Tips to Scale B2B Email Marketing
Here are 10 tips to level up your B2B email marketing:
1. Get Personal:
As mentioned before, personalization is critical to a successful B2B email marketing campaign. General marketing emails do not work anymore. Emails with a personalized message can only induce open and click-through rates. In fact, personalized email campaigns have been found to improve click-through rates by as much as 14%. Suffice it to say, people are only interested in what you have to say if you address them personally. This not only means that you have to use their name, but also that you have to give them relevant content.
MailSend features a very easy-to-use drag-and-drop email builder with which you can craft personalized newsletters and emails. It helps you create tailored emails specific to each of your customers and grab their attention.
2. Automate Effective Follow-ups:
Follow-ups are perhaps the most important thing to look into when it comes to email campaigns. It's also something that a lot of companies start falling back on when they start generating more leads. However, it is perhaps the biggest mistake to ignore or not send an appropriate email when a lead is on the right path. Not only does it hinder conversions, but it also sometimes causes irate prospects and customers. And a bad reputation as we all know can spread like wildfire.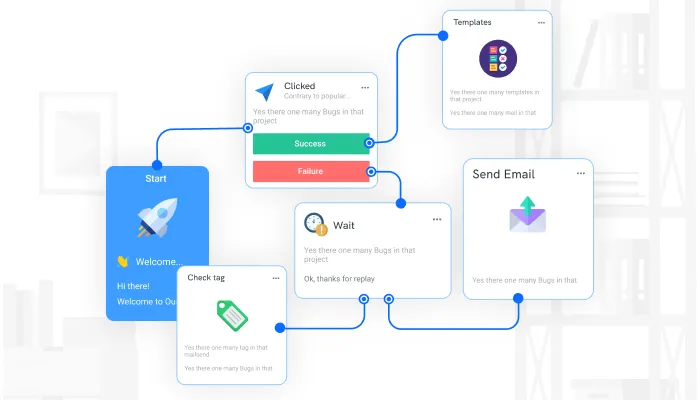 With B2B email marketing automation though, you will never have a problem following up with your leads or customers. You can not only create beautiful and personalized emails but also send those at the most appropriate times to induce a purchase decision.
3. Segment Your Audiences and Create Relevant Lists:
Segmented email campaigns are found to earn more than 100% click-through rates than regular emails. Imagine the level of effectiveness. Once you sort your prospects by different demographics and study their behavior, you will be able to clearly see what works and what kind of modulation is likely to trigger an action from each group. Crafting emails accordingly will naturally induce the expected action.

MailSend comes with a number of rich features to segment lead lists. It has options to filter contacts with the help of tags and allows you to create relevant lists. It, therefore, lets you manage your contacts in a more effective way. And managing contacts appropriately is very important when it comes to B2B email marketing. To know more go through this blog.
4. Use the Perfect Subject Lines to Boost Open Rates:
If you've been in the world of email marketing for at least one year, you will have realized that a subject line is literally what decides the fate of an email. If the subject line is not interesting enough for the prospect, then the email will most definitely go unopened. Hence, you must absolutely craft the perfect subject line before you even write the body of the email. And to know what the "perfect" subject line is, you have to watch your customers closely and see what is likely to work.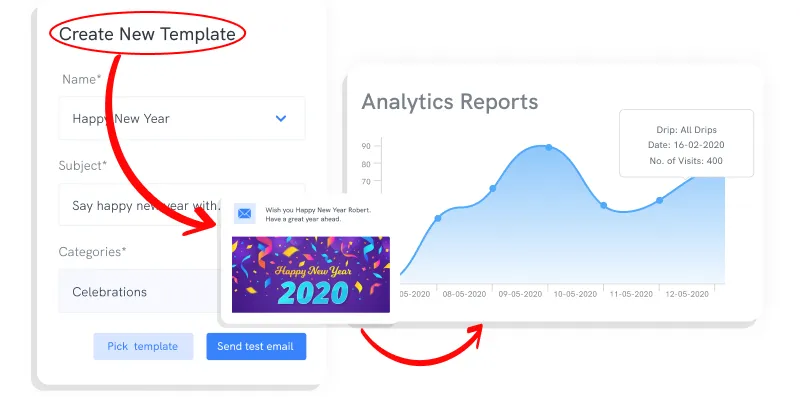 B2B email marketing software comes with attractive templates and newsletter builders along with analytics for you to create the perfect emails. MailSend too comes with a number of click-worthy templates that you can use in your marketing efforts.
5. Integrate Email Marketing Messages with Different Channels:
Once again, the point of technological preferences has to be stressed. Some people are more active on their social media, some people on their email and some people are more responsive with text messages. Hence the best way to ensure responses is to target your prospects through multiple channels. And that is why you need to integrate your email campaign systems with other channels as well, in order to maximize effectiveness. It will allow you to cater to the technological inclination of your customers and grab their attention where they give it most.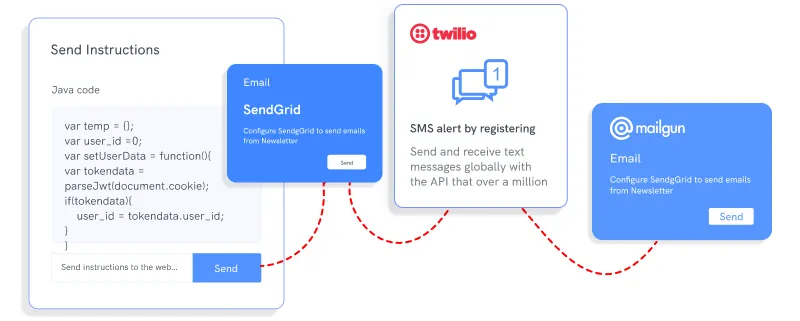 When choosing B2B email marketing software, make sure that you're selecting one with integration capabilities so that your emails are effectively followed up on other channels as well.
6. Get Effective Responses and Engage with Customers:
Whether it is social media or email, engagement is the keyword. Hence, by all means, your number one goal should not be to sell; rather it should be to engage with your customers. This means that you should ensure open rates as well as response rates for a majority of your emails. And in order to do that, you have to make it easy for your customers to respond, simply because people are lazy and will only make the effort if they know it's going to be easy.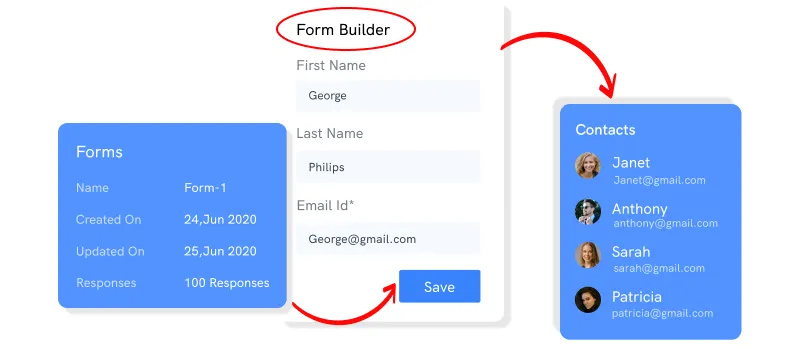 How do you make it easy? By using easy-to-fill forms and surveys in your emails. You must make use of every possible interactive piece of content in your emails so that your prospects are excited and interested in responding. This will build your connection with them and help you in nurturing quality customer relationships as well.
Engage More Audience by Automating your Email Marketing Campaigns with MailSend Sign Up 14 Day Trial
7. Focus on Building Relationships Rather than Plain Promotion:
As an extension to the previous point, you must give primary importance to building relationships rather than selling. Customers today are not induced by aggressive selling content. Excessively sales-ey emails will only annoy and aggravate the prospects leading to unsubscribes.
Hence, your emails must genuinely focus on the customer's interests and preferences. They need to feel that they are valued before they can make a purchase. They also need to feel like your brand understands their problems.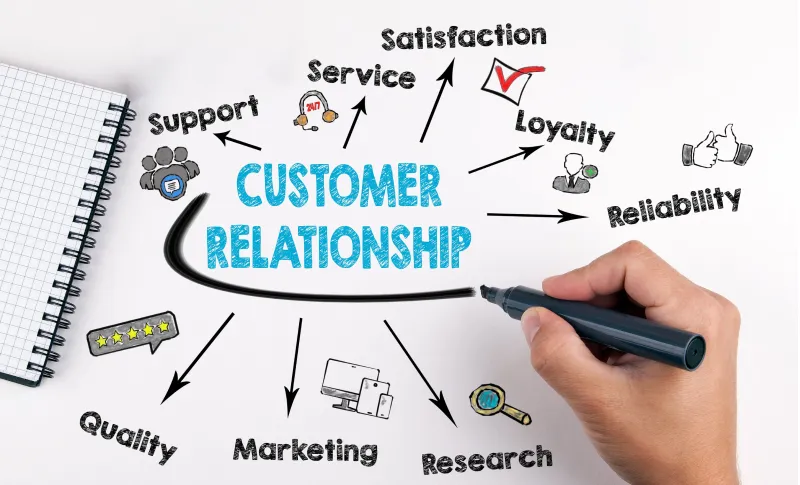 Once again, personalization comes into play. Put together with strategically designed emails, you will have your prospects trusting you in no time.
8. Check Effectiveness of Campaigns from Time to Time:
Your company will naturally evolve over time. In the same way, your audience will also evolve over time. Email best practices and trends don't stay the same, although there may be a few evergreen ones.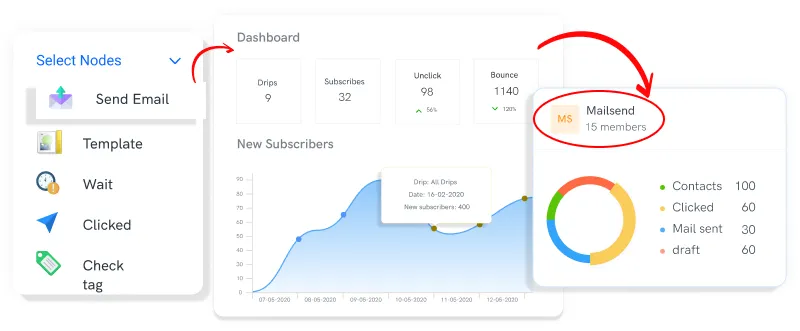 For all these reasons, the effectiveness of your email campaigns may vary greatly between years, seasons, and whatnot. On top of everything, political, social, and climatic changes can also affect B2B email marketing campaigns.
It is essential to keep checking the progress of your campaigns as well as the efficiency and effectiveness of your campaigns every once in a while. One particular campaign that did immensely well at one particular point in time, may not necessarily do so well on its second execution. Only if you gauge and analyze their efficiency will you understand why it did not do well and where you went wrong.
B2B email marketing software like MailSend comes with an array of reports and analytics specifically meant to help marketers like you study your campaigns closely. These insightful and interactive reports will give you real-time data on how your campaigns are doing and will allow you to make changes as and when needed, so as to maximize reach and effectiveness.
9. Optimize Email Campaigns According to the Data Collected:
As you integrate your contact list with your customer relationship team, each one of your prospects gets added to your email marketing campaigns. By doing so, you are essentially providing subjects for data collection, upon which your marketing software and analytics will keep collecting data. This means that your customers are closely studied in terms of their purchasing behavior, technological preferences, etc.

Now, this data may not always reflect a positive attitude or vibe. Sometimes you may receive negatively inclined customer behavior, which is absolutely normal. However, you must make use of this data to optimize your campaigns and improve effectiveness.
For example, MailSend collects important insights about open rates pertaining to different segments of customers. Take measures to remove people who are not interested in your email campaigns, people who consistently delete your emails, etc.
" A small list that wants exactly what you're offering is better than a bigger list that isn't committed."""" - Ramsay Leimenstoll "
10. Remain Consistent:
Last but not least, you have to remain consistent above anything else in B2B email marketing. Anything you do online needs consistency in order to stay relevant and attract attention. Hence you absolutely cannot slack on consistency. It is not enough to send out newsletters and emails every once in a while or occasionally to your prospects. You have to send them regular emails as well as trigger-based emails to act when the situation is right. If you stay consistent enough, at least one of your emails is bound to induce favorable action from your prospects and that is how you lead them to conversion.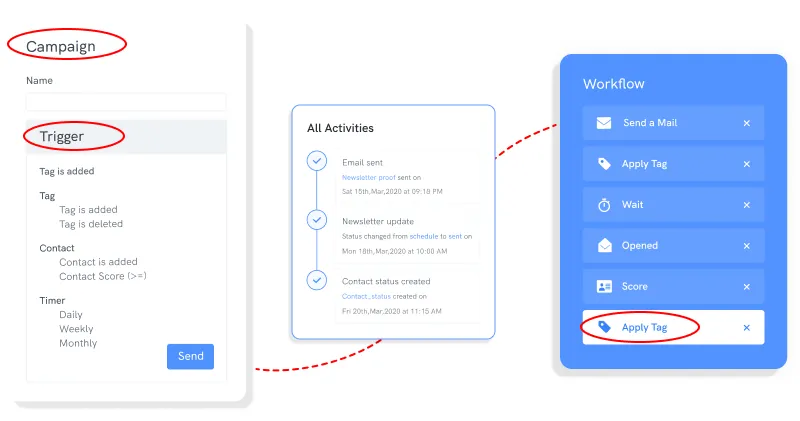 B2B email marketing automation can help you stay consistent in your efforts at all times. With automated drip campaigns and trigger-based emails, you will never miss a chance to influence your customer. Ultimately, it will help you close deals and build good relationships with your customers in the long run.
Conclusion
All of the above-mentioned best practices in B2B email marketing will help you scale your efforts, grow your contacts list and ultimately scale your business. Apart from that, all of these tips will also help you build lasting relationships with your customers, which is undoubtedly what forms the foundation of your business.
Affiliate Marketer Toon Chooi, talks about all these tips and more on Forbes.
You can seek help from email automation software like MailSend, to keep up with these tips and ensure effectiveness. In fact, when it comes to the B2B industry, owing to the number of leads being generated at any given point in time, you are best off with automation to help you follow up effectively and stay consistent.
What Makes the Best Email Marketing Software?
#1
Send unlimited newsletters and promotional emails to your contacts
#2
Create multi-step email sequences using visual flow designer
#3
Choose your own email gateway provider or get 5000 user emails every month for FREE
#4
Personalize your email using merge functions and dynamic images
#5
Trigger marketing automation rules based on email opens or clicks
#6
Assure GDPR compliance and double opt-in consent
#7
Send bulk emails to unlimited subscriber lists in different projects
#8
Generate and analyze the detailed reports on email campaigns
#9
Unbelievable pricing - the lowest you will ever find
#10
Everything your business needs - 50 apps, 24/5 support and 99.95% uptime
Join the SaaS Revolution
All-in-One Suite of 50 apps

Unbelievable pricing - ₹999/user

24/5 Chat, Phone and Email Support