Best Email Marketing Software: Top 5 Tools for Success
Although email marketing is a successful strategy for keeping in touch with clients and potential clients, getting started can be challenging. The best email marketing software can help with that.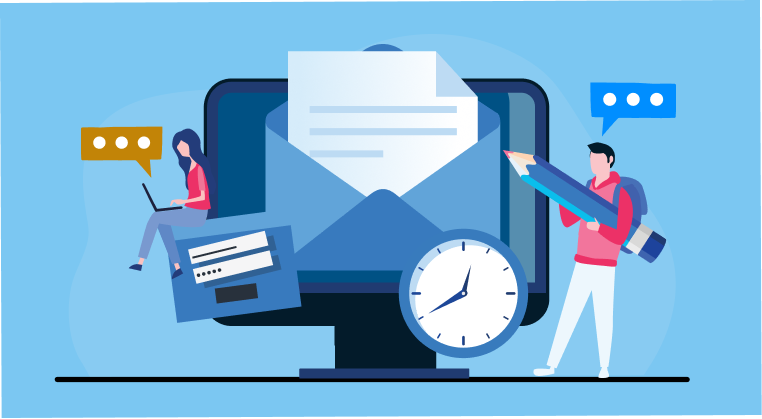 Businesses use email marketing software to develop and distribute newsletters, marketing emails, and other types of communications. It can be used to send mass emails to all of your subscribers or to target particular customer groups with customized messages.
The best email marketing software provides the ability to tailor communications, the capacity to track outcomes, and the capacity to automate email marketing campaigns. The best email marketing software can also assist companies in avoiding spam filters and improving the likelihood that their communications will reach the inbox.
Any company that wishes to strengthen its client relationships and boost sales should consider investing in the best or bulk email marketing software.
Best Email Marketing Software: An Overview
Businesses can create and manage their email lists using the best email marketing software, segment those lists for targeted email sends, and track subscriber reactions. With the aid of simple WYSIWYG editors or by using HTML and CSS, these email marketing tools may be used to design and create customized emails.
The CRM software and the best email marketing software integration allow for the platform's predictive skills to be improved. Marketing automation technologies frequently include email marketing as a function. These products fall into the category of email marketing point solutions because they often do not include a full range of further automation functions across various channels.
Business owners are always looking for ways to enhance their marketing initiatives. With a return on investment of $42 for every $1 invested, email marketing continues to be a potent marketing strategy. It's critical to get the best email marketing software for small business that can advance your marketing if you want to maximize the potential of email marketing.
Email marketing software transforms into a potent tool for expanding your customer base, segmenting your list, and integrating all of your marketing platforms.
Importance of Email Marketing Software
One of the most economical marketing strategies for small businesses is email marketing. The Direct Marketing Association reports that businesses in the United States typically receive an ROI of 4300 percent from email marketing. This is so that you may build a direct line of communication with your customers and manage your email marketing easily.
It's crucial to realize that your email marketing success will depend heavily on the best email marketing software you use because they are in charge of ensuring that your emails are actually sent. If you don't take care, you'll end up spending more for fewer marketing options and poor email deliverability rates (which causes you to lose even more money).
You should be able to create extremely engaging email newsletters using the best email marketing software simple user interface (ideally a drag-and-drop editor). Sending mass emails that are genuinely tailored and targeted shouldn't take much effort. Marketing automation is another name for this.
In addition, your best email marketing software must make it simple to classify consumers into groups, manage your contact list, and track the effectiveness of your email marketing campaigns. The best and most free email marketing software will, above all else, make sure that your email campaigns do not land in the spam folder.
Top Email Marketing Software
Let us check out some of the best email marketing software that can transform your email marketing strategies for the better.
MailSend
MailSend is the best email marketing software that has been designed to make it easy for businesses to send out mass emails. It is one of the most popular email marketing software available that is also a highly user-friendly bulk email sender online.
MailSend offers a wide range of features that make it an ideal choice for email marketing. It allows businesses to create and manage mailing lists, track email campaigns, and create email marketing templates with simple drag-and-drop designers. MailSend also provides a number of reports that give businesses insights into the performance of their email campaigns.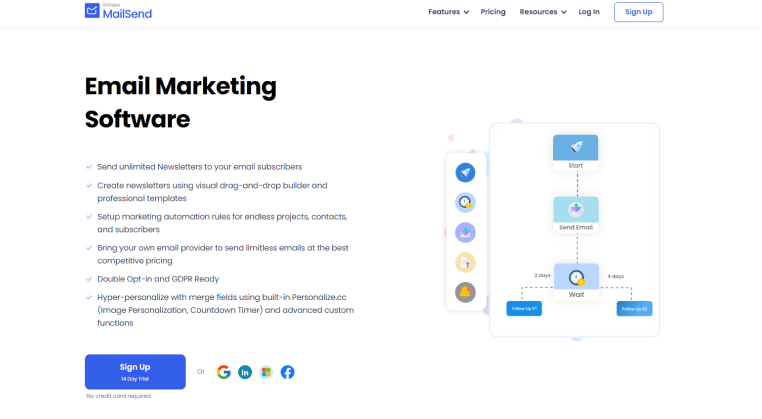 One of the key features of MailSend is its ability to track email opens and clicks. This allows businesses to see which of their emails are being read and which are being ignored. This information can be used to improve future email campaigns.
MailSend helps businesses design their captivating newsletters and also multi-level drip campaigns. You can use this best email marketing software to segment your subscribers into mailing lists and automate entire email marketing.
Moosend
For small enterprises, Moosend offers cheap and best email marketing software. It has a variety of strong marketing automation capabilities, landing pages, and tools for building email lists.
Using one of its many pre-made email marketing templates or by designing a totally unique template, you can rapidly build an email newsletter and adjust the email look to match your brand in just a few minutes.
The good thing about Moosend is that all of its plans include marketing automation features. You can offer a customized subscriber journey for your email subscribers using their automated workflow designer.
You can monitor critical metrics like email openings, clicks, bounces, product views, transactions, custom event tracking, and even forecasted demographics data with Moosend's extensive email analytics.
AWeber
AWeber is one of the oldest and among the well-known best email marketing software worldwide. They provide a variety of tools for managing email marketing for small and medium-sized enterprises.
With AWeber, getting started is simple. The majority of platforms, including WordPress, can be connected to it easily.
You have access to list management, autoresponders, a/b testing, and email tracking with in-depth insights, in addition to ready-to-use HTML email templates.
Other strong email marketing tools offered by AWeber include AMP emails, automatic RSS-to-email conversion for bloggers, and tag-based subscriber segmentation.
Drip
For bloggers, digital marketers, and those in the eCommerce space, Drip is the best email marketing software. They provide a variety of solutions to make personalization, sales funnels, and marketing automation simple.
They provide seamless connections for all well-known website builders, such as WordPress and WooCommerce, with their email software. As a result, adding pop-ups or opt-in signup forms to your website is simple, enabling you to collect more leads.
Drip's intelligent marketing automation capabilities, better email segmenting, split testing features, list groupings, and visual drag-and-drop automation workflow builder set it apart from the competition. With the aid of this best email marketing software, you may increase sales by reaching out to specific clients on your email list.
Live chat help, webinars, training in automation, in-depth courses, free guides, and top-notch documentation are all available as support options at Drip.
HubSpot
HubSpot email marketing solution is free to start using and includes several potent automation capabilities that are intended to help you expand your company.
With the help of a simple drag-and-drop email builder and an assortment of themes, this best email marketing software helps you with making a totally unique newsletter that reflects the spirit and colors of your company.
You may customize your emails for each subscriber depending on factors like the type of device, country, list membership, or any other specific information you may have about the particular subscriber thanks to the direct interaction with the HubSpot CRM.
Send time optimization, high email deliverability, A/B testing, in-depth performance analytics, marketing automation, drip programs, and other strong features are all included in HubSpot.
Choosing the Best Email Marketing Software for Your Business
Leaving the above list of best email marketing software to your analysis, let us have a quick understanding of a few must-have features for whatever tool you decide to use. Ensure that the software provides you with a few or all of these features.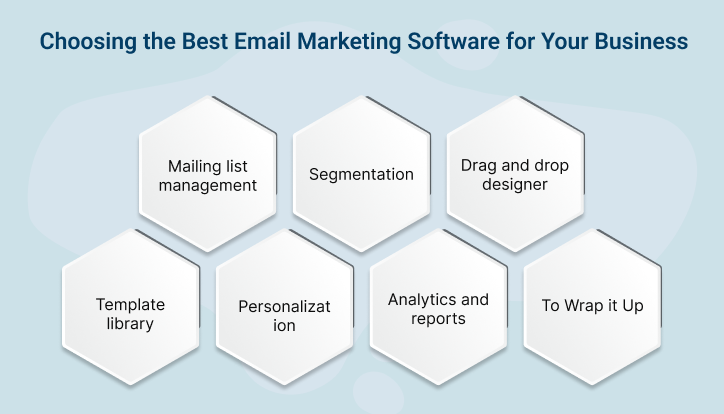 Mailing List Management
If you don't have someone to send emails to, you can't start an email campaign.
You must be able to keep and manage your subscriber list with the best email marketing software you choose. In a perfect world, it would allow you to import information from your CRM, saving you the time it would take to manually enroll subscribers. It must also conduct checks to confirm email legitimacy and maintain an appropriate hygienic email list.
Segmentation
Segmentation guarantees that the appropriate users receive the appropriate messages at the appropriate times. By doing this, subscribers will feel more connected to you and find it simpler to contact you and your company for the information they require.
The capability to divide your contacts into groups or segments is one of the essential components of any best email marketing software.
Bonus advice: search for software that provides you with sophisticated, ready-made segments, such as purchasing habits, involvement levels, and hobbies.
Drag-and-Drop Designer
Email creation no longer requires a group of designers and coders. Search for the email marketing software that features a drag-and-drop, no-code email builder, just like MailSend does.
By using drag and drop builder, you may quickly construct emails by dragging and dropping elements as opposed to writing code for them.
Template Library
The best email marketing software provides unique templates to boost the productivity of your campaigns. If you don't create emails utilizing premade free email templates, you're falling behind. HTML email templates are used by 76% of brands to create compelling, consistent emails.
Find software like MailSend that has a huge collection of email templates. It is a plus if they have a mobile-friendly design and are simple to customize.
Engage More Audience by Automating your Email Marketing Campaigns with MailSend Sign Up 14 Day Trial
Personalization
One of the most effective ways to harness the power of the best email marketing software is personalization. You can create your brand and message in a way that resonates with your customers by customizing your emails for each recipient.
Using the best email marketing software such as Mailsend, you can get access to personalization software using which you may send email campaigns that appear to be originating from you directly. It greatly improves accessibility and speeds up the email writing process while also letting you know who is reading your messages.
Merge tags and dynamic content are two personalization characteristics to check for. By using these features, you may provide individualized experiences with less work.
Analytics and Reports
Utilize the best email marketing software to monitor the performance of your campaigns and receive analytical information on everything from click-through rates to unsubscription rates to revenue per email.
Utilize the tracking features of the best email marketing tools to determine which recipients, times of day, subject lines, and other elements are most successful in reaching your target market.
Wrapping It Up
Through this blog, we hope you got a clear understanding of email marketing and have a good idea of some of the best email marketing software in the market. On the end note, we would recommend the best of all, MailSend by 500apps. Not only does this email marketing platform offer crucial features but also provides additional tools such as HTML builder, email analytics, image library, and more. Furthermore, it gives you access to 50+ other applications of its parent suite, that answer all your requirements for successful business growth.
What Makes the Best Email Marketing Software?
#1
Send unlimited newsletters and promotional emails to your contacts
#2
Create multi-step email sequences using visual flow designer
#3
Choose your own email gateway provider or get 5000 user emails every month for FREE
#4
Personalize your email using merge functions and dynamic images
#5
Trigger marketing automation rules based on email opens or clicks
#6
Assure GDPR compliance and double opt-in consent
#7
Send bulk emails to unlimited subscriber lists in different projects
#8
Generate and analyze the detailed reports on email campaigns
#9
Unbelievable pricing - the lowest you will ever find
#10
Everything your business needs - 50 apps, 24/5 support and 99.95% uptime
Join the SaaS Revolution
All-in-One Suite of 50 apps

Unbelievable pricing - ₹999/user

24/5 Chat, Phone and Email Support