Email Marketing Platform: Features and Benefits
Email marketing platforms allow businesses to send high-volume emails to their customers. The platforms provide a way to manage large email lists, automate email sending, and track the performance of email campaigns.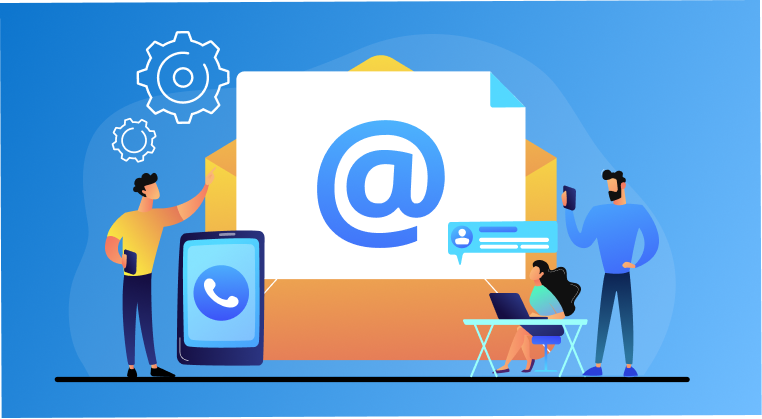 Email marketing platforms are used by a wide range of businesses, from small businesses to large enterprises. They are used to communicate with customers, prospects, and leads. Email marketing platforms can be used to send transactional emails, such as order confirmation emails and shipping notifications. They can also be used to send marketing emails, such as newsletters and promotional offers.
Email marketing platforms typically offer a variety of features, such as email list management, email templates, email schedulers, and email analytics. Some platforms also offer integrations with other marketing tools, such as CRM software and web analytics platforms.
Choosing the right email marketing software for small business is important. There are a wide variety of email marketing services available, so businesses should consider their needs and budget and be sure to select one that meets their specific needs.
Email Marketing Platform: An Overview
Despite the too optimistic claims of its demise, email marketing still produces amazing results for businesses across the board—and ecommerce in particular. Therefore, it makes sense that the market for email marketing platforms is becoming more and more competitive.
Your email list is one of your most valuable resources as a business owner. You may communicate directly with your customers and boost your marketing automation efforts by building an email list.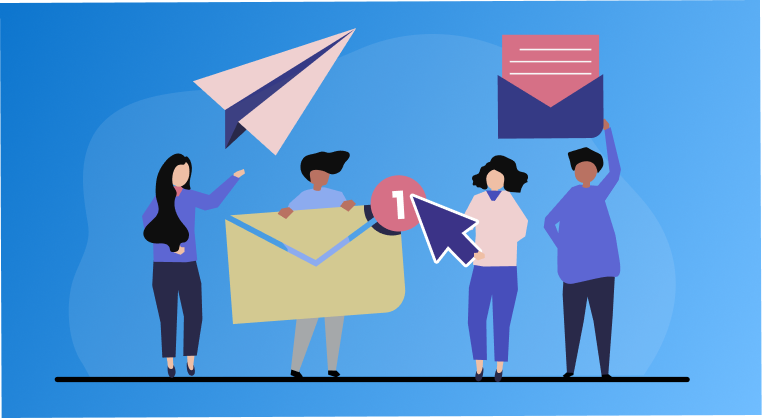 While SEO and social media have their uses, free email marketing software gives you more freedom from the platform and updates dependencies.
Given the incredible advantages of email marketing, there are a variety of email marketing programs available. It is crucial to understand the effective uses of email marketing platforms in order to learn that you are using them right.
Must-Have Features of an Email Marketing Platform
Your email marketing platform should, in the end, simplify your life by assisting you in automating your emails and marketing campaigns and making it simple to create stunning and captivating emails that you can distribute to your clients and subscribers. While choosing the email marketing platform, ensure that it addresses the following:
1. Easy-To-Use Interface
The goal of email marketing platforms should be to simplify the job of email marketers. To guarantee that you can use all the functions you require quickly and simply, look for an email marketing platform with an intuitive UI and a minimal learning curve. An email editor with drag-and-drop functionality is a fantastic addition. Furthermore, if you employ email designers, you should pick a platform that supports HTML email templates. Make sure the email marketing platform you select includes a library of templates you can alter to produce emails that showcase your brand if you don't have any designers on staff.
2. Email Segmentation
The ROI of your email campaigns increases significantly by email segmentation. Based on demographics, location, behavior, and other factors, you may design customized marketing campaigns and promotional emails for the particular audiences who will be most interested in them. Some email marketing platforms even utilize artificial intelligence (AI) and machine learning to analyze user behavior in real time and adjust your email messages as you go.
3. Email Personalization
If you want to personalize your email marketing campaigns, segmentation is crucial. Additionally, it is imperative that you customize your email marketing efforts. Find an email marketing platform that supports merge tags to make it simple to customize both the email copy and the email subject lines. In some email marketing platforms, you can even produce and send a single email that automatically incorporates specific content based on the segment it is being sent to. These platforms use dynamic content.
4. Email Automation
There are many moving components in email marketing, many of which are labor-intensive, repetitive manual operations. Fortunately, many of the top email marketing platforms have automation tools that can save you a tonne of work. Email automation covers a range of features, including email scheduling, delivery confirmations, engagement tracking, text analytics, role-based account access for your marketing team, and even intelligent segmentation/re-segmentation based on the results of your email marketing campaigns.
5. Testing
Testing is one of the most crucial things you can take to make sure your email marketing initiatives are getting the optimum ROI. A/B and split testing features are found in many of the top email marketing platforms, allowing you to compare various aspects of your marketing emails to make sure you have the most effective possible set of subject lines, copy, calls to action, email design, and format.
6. Analytics and Reports
To make sure your email marketing is accomplishing your objectives, you should monitor a number of benchmarks. However, manually keeping track of this data might be a full-time job. To track open rates, click-through rates, bounce rates, and other metrics pick an email marketing platform that offers reporting and analytics.
Email Marketing Platform Benefits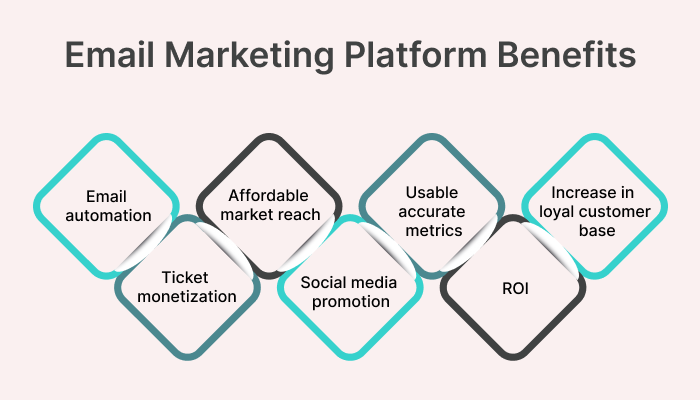 Email marketing platform addresses the pain points in handling email campaigns because it can be a laborious procedure overall. The benefits of the email marketing platform are listed below.
1. Email Automation
Consider sending 1,000 emails all at once. Sorting the addresses, copying the message, and sending emails by hand will take a lot of your time. Email marketing platforms may automate the entire campaign process once the message has been polished, including grouping recipients, scheduling emails, and creating feedback reports.
2. Affordable Market Reach
As long as you have a sizable mailing list, a sender email marketing platform makes it possible to reach a specific audience for a lot less money than you would with traditional media like television, print, or radio. Furthermore, because you established the list through opt-ins or by using a permission marketing technique, the audience is more precisely targeted. Although it is still better to create a list around your clients, some businesses choose to use a purchased list to gain their first subscribers. The cost per email dramatically decreases as you grow your list using incentives like white papers and discounts, significantly boosting the return on investment of the email marketing platform.
3. Usable Accurate Metrics
Email marketing platforms may be the only ones that can provide post-campaign data that are more in-depth. Key indicators including open rates, click-through rates, forwarded messages, and engagement levels can be produced by it. You may correctly determine the cost-benefit ratio and account for each campaign's budget with the help of a thorough feedback report.
Engage More Audience by Automating your Email Marketing Campaigns with MailSend Sign Up 14 Day Trial
4. Increase in Loyal Customer Base
You may easily launch different series of campaigns thanks to bulk email marketing software, that keeps you in touch with your consumer base at all times. You can target content to the recipient's interests, offer discounts to encourage repeat purchases, or just keep clients informed about the newest services or goods. Your direct channel to clients is an email marketing platform, which you can use to foster their loyalty and interest and perhaps even encourage further sales. Additionally, they might send your email to relatives and friends, broadening your audience.
5. Ticket Monetization
You can use customer complaints that are sent to your help desk to your advantage and attract more people to your email list. Include them in an email campaign if their problem is resolved and the client is happy to increase sales. Although this procedure is frequently used in CRM, an email marketing platform is an excellent alternative to that program.
6. Social Media Promotion
Cross-channel promotions are made possible by some email marketing platforms' ability to connect to your social media profiles. For instance, you may provide discounts in an email to encourage the receiver to like your Facebook page or use your hashtag. This is one method of transferring subscribers to your social media platforms if you have a sizable mailing list.
7. ROI
The use of best email marketing software encourages campaign accountability. The analytics for each campaign can be tracked right down to the engagement level, click-through rate, and open rate. In contrast to tri-media channels, it not only raises brand awareness but also immediately brings in money.
Conclusion
Email marketing helps organizations expand their market reach and an email marketing platform enables them to do so. MailSend by 500apps is the advanced email marketing software that helps with designing effective marketing campaigns. Check out the application and see how its tailor-made features assist you and utilize the 50+ applications of its parent suite that you are provided access to. These applications meet all your business needs from marketing and sales to HR and engineering.
What Makes the Best Email Marketing Software?
#1
Send unlimited newsletters and promotional emails to your contacts
#2
Create multi-step email sequences using visual flow designer
#3
Choose your own email gateway provider or get 5000 user emails every month for FREE
#4
Personalize your email using merge functions and dynamic images
#5
Trigger marketing automation rules based on email opens or clicks
#6
Assure GDPR compliance and double opt-in consent
#7
Send bulk emails to unlimited subscriber lists in different projects
#8
Generate and analyze the detailed reports on email campaigns
#9
Unbelievable pricing - the lowest you will ever find
#10
Everything your business needs - 50 apps, 24/5 support and 99.95% uptime
Join the SaaS Revolution
All-in-One Suite of 50 apps

Unbelievable pricing - ₹999/user

24/5 Chat, Phone and Email Support