Benefits of an Automated Email System for Businesses
Finding your audience and engaging your consumers are made easier by an automated email system. Automations run in the background as you attend to other important duties, unlike manual campaigns. You can use automation to deliver individualized emails to each individual, from first-time visitors to recurring customers.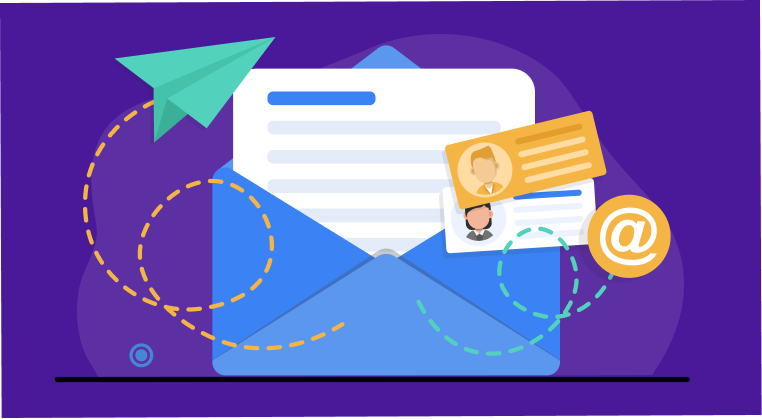 There are always deadlines, content to plan, and strategies to put into practice for marketers. The growth of marketing automated email systems is one of the reasons marketers are able to multitask and accomplish so much during the workweek.
The finest practices for marketing have incorporated marketing automation. Complex processes could be streamlined to save time, which allowed marketers to use their extra free time to maximize budgets in other areas.
The main goals of an automated email system are to increase the effectiveness of customer interactions, provide leads, facilitate the transition from customer browsing to customer purchasing, and convert clicks into paying customers.
After that little introduction, we can move on to the important information. As we go into the world of an automated email system, fasten your seatbelts.
Purpose of the Automated Email System
An automated email system helps with sending automatic messages so that the right people receive the correct message at the right time without having to perform the work manually.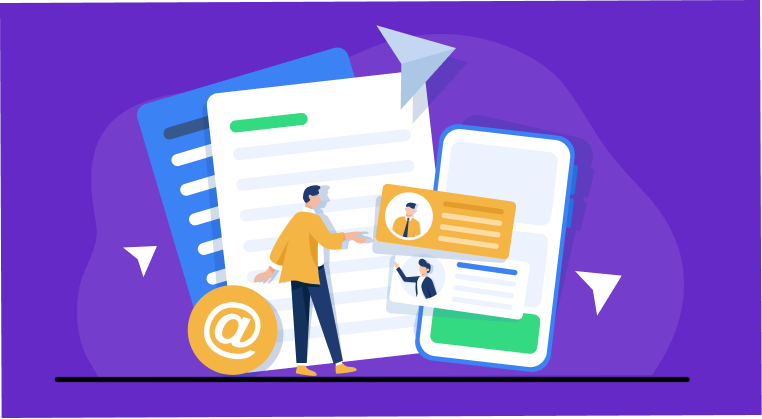 You may target customers based on their behavior, preferences, and previous sales when you integrate your website analytics with your email marketing software for small business. The experience of each customer may then be tailored, and your automated programs will be more pertinent.
Marketers may design automated email workflows for each email marketing campaign thanks to the automated email system. You can include actions, events, and conditions in these automated workflows so that when a condition is satisfied and the action is finished, an email is sent.
Despite the benefits of an automated email system, only a few businesses have begun using it. The good news is that it's simple to launch an intelligent, targeted automated email campaign and start producing valuable results.
You could send the following automatic email messages, as examples:
Welcome emails to new clients to assist them in utilizing your product.
Email nurture series that directs customers to the following stage of the sales funnel.
Emails wishing people a happy birthday or anniversary to foster consumer loyalty.
User verification emails to confirm the legitimacy of new users.
Using an Automated Email System
An automated email system makes it simple to automate email marketing. The concept is straightforward: set up a campaign and a trigger (a preset event) to enable automated sending when the event occurs.
The following stages are involved in setting up the automated email system:
Install an Email Marketing Tool: You'll need user-friendly email automation software to get started, like MailSend.
Create and Organize an Email List: Have a subscriber list that can be grown naturally through signup forms and to which you can send automated emails. Based on factors like hobbies or behaviors, divide your list into smaller sections.
Set up a Trigger for Automation: An automated email system campaign is started by a trigger, which can be anything from a subscriber's birthday to an abandoned cart to a lack of engagement for a certain number of days.
Make Email Marketing Programs: Create graphics, messages, call-to-action buttons, discounts, brand logos, etc. to be included in the automated email system.
Set the Automation in Motion: Set the automated email marketing system campaign send time and enable it. Later, keep an eye on how it functions to spot areas for improvement.
Even for beginners, setting up an automated email system is straightforward when the proper application is used.
Benefits of an Automated Email System
Automation has been a boon in various fields of life and businesses in particular. Let us now read through a few benefits of an automated email system:
No Manual Intervention
The ability of an automated email system to operate autonomously is one of its main advantages. Once they're configured, you may select a specific set of conditions to start the workflows, and they'll start working.
No one needs to press the send button. The email automation will run nonstop for you.
Lead Nurturing
Some companies ask their sales personnel to get in touch with fresh leads right away before they get cold. But it's possible that these leads aren't quite prepared to hear from a salesperson just yet. Contact may not want to speak with your sales staff just because they got a free how-to manual from your website.
An automated email system nurtures your leads by responding to their inquiries with relevant resources and information. The contact will learn more about your company and be more receptive when your sales staff approaches them later on if these emails are pertinent and interesting.
Sales Boost
This is a significant gain for both your sales team and marketing team because email processes are made to nurture prospective customers. There is a greater likelihood that the lead will be interested in what your company has to offer because they can see which emails and material the lead have interacted with.
Employees will receive internal emails from some automated email system platforms, such as MailSend or HubSpot, if and when an email receiver takes a particular action. For instance, completing a free demo form would indicate that a person is prepared to be approached by a member of your sales team. So that they are aware when it is time to pick up the phone, your automated email system might then automatically send them an email.
Relevancy
You may make sure that your automated email system is entirely pertinent to the recipient when you first plan them.
Nothing is more aggravating than receiving numerous emails from a business that aren't personalized for you. They're useless, filling up your inbox, and irrelevant. Most people will either unsubscribe or immediately forward your emails to their spam folders.
If your email workflows are pertinent to the reader, you'll attract more subscribers.
Brand Awareness
When automation handles labor-intensive tasks, the outcomes are more reliable and appealing. An email marketing platform, in summary, gives firms the appearance of being more responsive and well-organized.
When the email contact receives useful and timely emails from your workflow, they'll inevitably be more aware of and knowledgeable about your company.
As a result, when a salesman contacts them, they will be aware of who and what your company is, and they will probably be more receptive to what you have to say.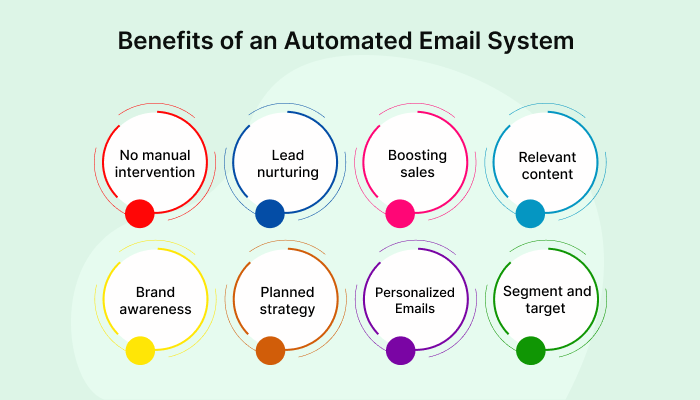 Planned Strategy
Email workflows are well designed and have a single primary objective, unlike some businesses that only want to send the occasional email to their contact database.
Because you have the chance to plan out each workflow's operation, it enhances your whole email marketing services. As a result, make sure each email is pertinent and has a purpose.
Engage More Audience by Automating your Email Marketing Campaigns with MailSend Sign Up 14 Day Trial
Personalization
In personalized email processes, personalization tokens containing the contact's information are included when an email is automatically sent. The email will say "Hi, John" rather than "Hello, there."
Other personal information, including location and employer information, can be added using some email workflow tools. Adding a personal touch to an automated email system strengthens the bond between a prospect and your company on a deeper level.
Personalization is being utilized frequently to interact with contacts, and it has huge advantages for inbound marketing. Additionally, personalizing your emails can boost their open and click-through rates.
Better Segmentation and Targeting
Segmenting email contacts into several groups or lists based on their characteristics, recurring behaviors, and other pertinent factors is one of the most efficient, yet frequently underutilized uses of an automated email system. All of this can be kept in your convenient CRM.
To assess the interest and buy potential of various leads, you can also design sophisticated procedures like lead scoring. This means you send the appropriate message in your follow-up as a result.
Sending subscribers more specialized emails is possible by segmenting your primary list into smaller groups. This not only boosts conversions and engagement rates but also raises customer satisfaction levels.
Bottomline
Using an automated email system can help you keep your subscriber list informed and interested. With the aid of best email marketing software such as MailSend by 500apps, you can effortlessly design automation and schedule their distribution, saving you time and fostering stronger client relationships.
What Makes the Best Email Marketing Software?
#1
Send unlimited newsletters and promotional emails to your contacts
#2
Create multi-step email sequences using visual flow designer
#3
Choose your own email gateway provider or get 5000 user emails every month for FREE
#4
Personalize your email using merge functions and dynamic images
#5
Trigger marketing automation rules based on email opens or clicks
#6
Assure GDPR compliance and double opt-in consent
#7
Send bulk emails to unlimited subscriber lists in different projects
#8
Generate and analyze the detailed reports on email campaigns
#9
Unbelievable pricing - the lowest you will ever find
#10
Everything your business needs - 50 apps, 24/5 support and 99.95% uptime
Join the SaaS Revolution
All-in-One Suite of 50 apps

Unbelievable pricing - ₹999/user

24/5 Chat, Phone and Email Support